Lisa shares how NOT to trigger your team's kryptonite 
Are you having trouble with a team member? Are they clearly upset and you're not sure why?
Try today's Play-full Practice Challenge and avoid being the Debbie Downer on your team.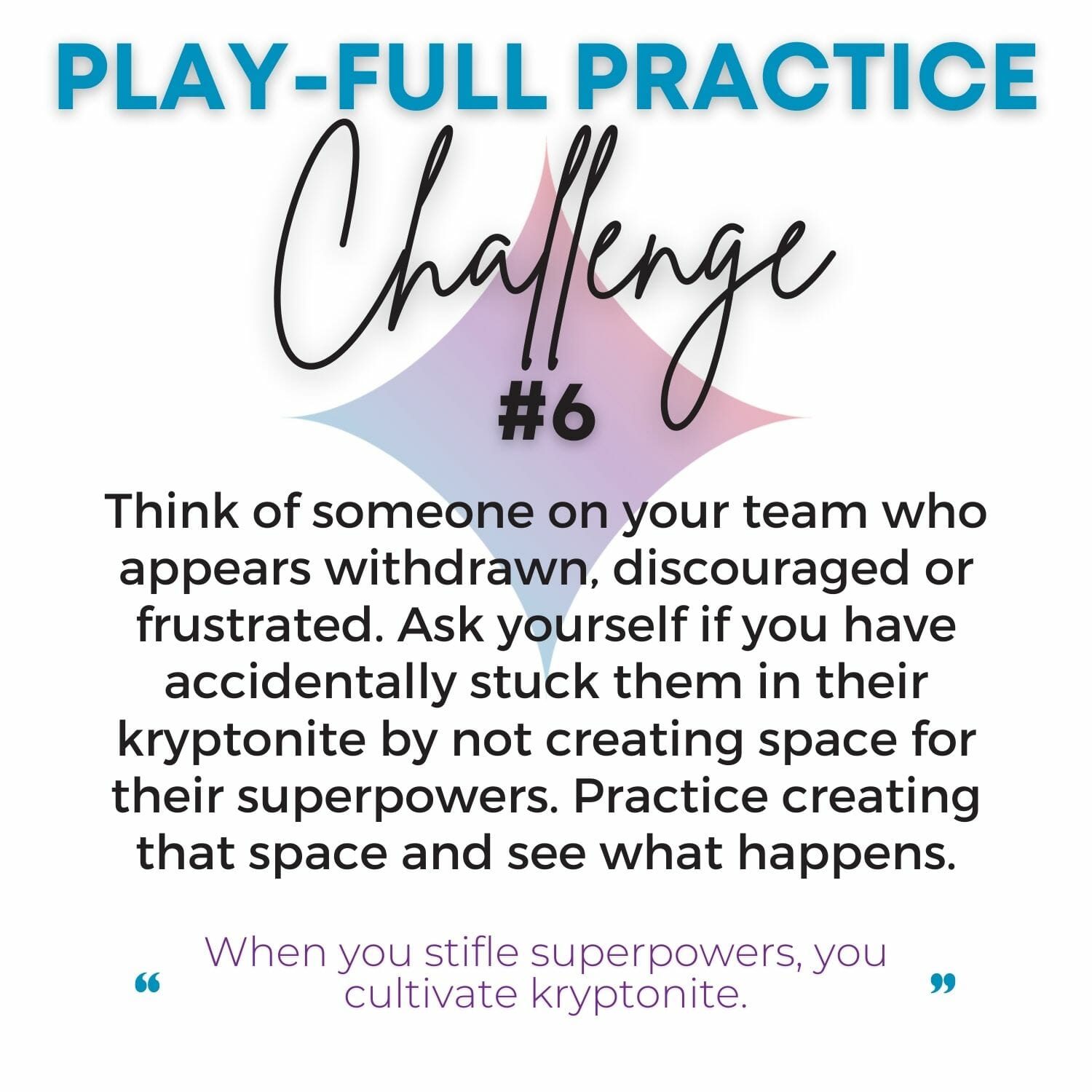 The Accidental Kryptonite List
Take the CliftonStrengths assessment here.
To learn more about how to communicate with each theme, check out this blog.
Strategic strengths: Don't tell Strategics what to do and how to do it. This shuts off their superpower of creating new future possibilities and figuring out the best path to get there.
Influencing strengths: Don't put Influencers in the back seat while you sell an idea. Leverage their ability to communicate a vision and energize others into action.
Executing strengths: Don't become the roadblock to Executors' attempts to finish their work.  Give them the tools and information they need to get-'er'-done, and then step out of the way.
Relationship-building strengths: Don't be cool, aloof, harsh, or disengaged from the team. Don't expect Relationship builders to be comfortable laying down the law or engaging in conflict - as this clashes with their gifts of connection and team-building.
What are Superpowers?
Superpowers are your innate talents, motivations, and personality patterns that consistently produce superior results.
What is Kryptonite?
Kryptonite is the tasks, duties and communication styles that disempower us, fueling avoidance, mediocrity and silos on our teams. 
See the superpowers and kryptonite of each Enneagram type »
What is a Play-full Practice Challenge?
A Play-full Practice is a new action, practiced with full commitment, that contributes to your personal and professional development.
This Challenge will help you and your team apply superpowers to drive revenue and results. Challenges build on each other to provide a year-long path to growth!
Activate Your Team's Superpowers
Parillume provides transformational coaching and keynotes to help you shift your lens and leverage your team's unique strengths, personalities and perspectives to drive revenue and improve relationships.
Want to learn more? Connect with us »