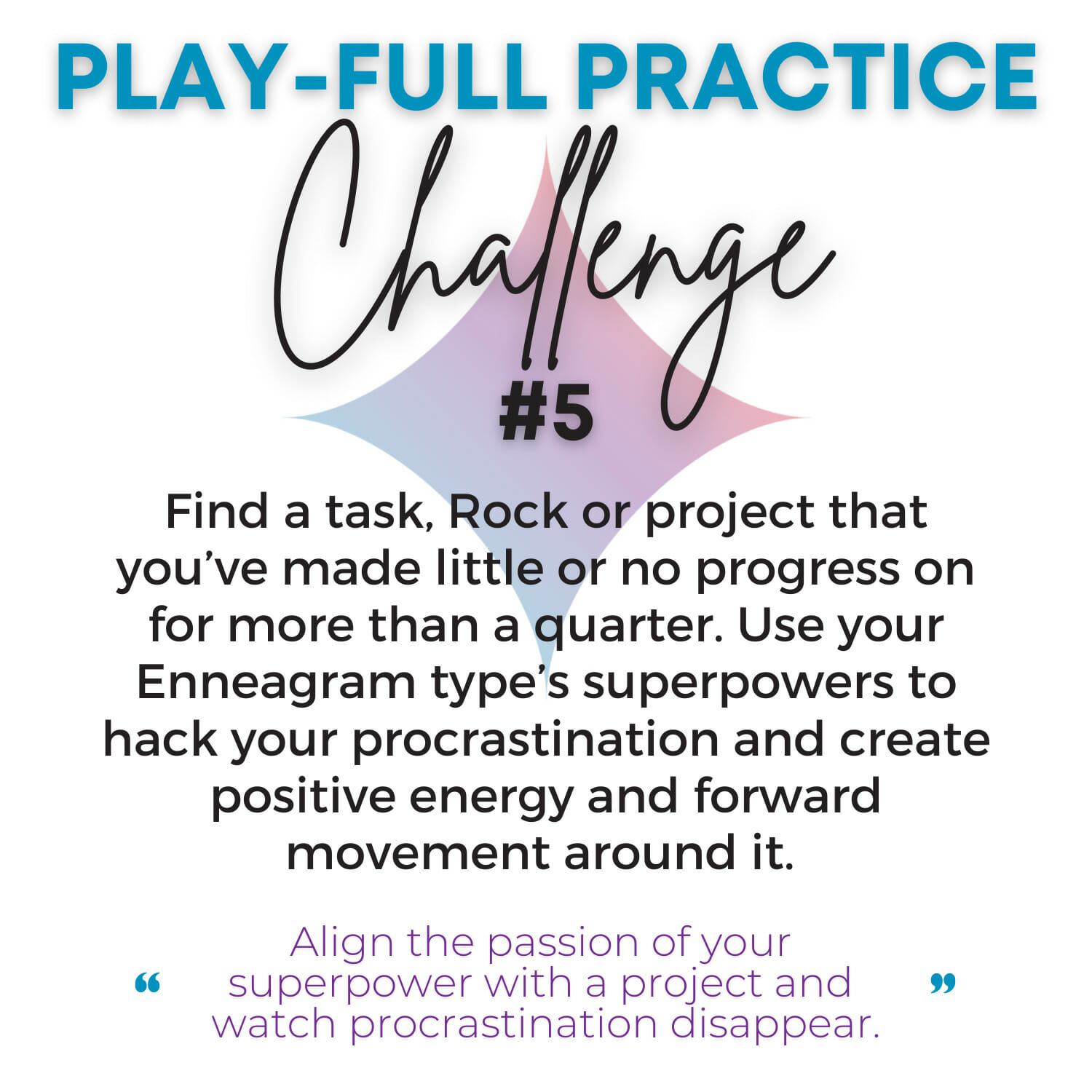 What are your Enneagram type's superpowers?
Find your type below to understand how you can hack procrastination!
Enneagram 1 Reformer's Superpower: Consistent Excellence. To get a project or task moving, write down the process required to complete it. Use your reforming superpowers to document a better process. Break down each step and set dates for completion of the parts and the whole in your calendar.
Enneagram 2 Helper's Superpower: Community-Building. Helping others and creating connection and collaboration fuel you. First, notice the way this task or project makes a difference. Then, invite others into the project with you, and when you gather, share a meal or some other nurturing treat.  Bonus points if you delegate and don't do all the work yourself. 
Enneagram 3 Achiever's Superpower: Results-driven. Winning is the name of the 3's game, so the easiest way to kiss procrastination goodbye is to turn the task or project into a game or goal with a measurable outcome and a reward. 
Enneagram 4 Individualist's Superpower: Creativity. Take the time to get to the authentic root of this project or task: Ask: "What's the real goal? Why?" Then find a way to accomplish it that is unique to you. Adding your own flair to the work moves you from a cog to a creator.
Enneagram 5 Investigator's Superpower: Pioneering. To get energized around a task or project you've been avoiding, start with some research. This deep-dive into what others are doing and what the options are may lead you towards an innovative approach that takes all the data into consideration and pioneers a new path for your team. 
Enneagram 6 Loyalist's Superpower: Team cohesion and stability. Before making a decision about a task or project, gather input from others on the team. Give yourself focused time to do so – and a deadline to stop and make a decision. This sense of security, reassurance and team cohesion will energize you and keep you from procrastinating. 
Enneagram 7 Enthusiast's Superpower: Positive Energy. When you've been procrastinating, it's a clue you need to clear your calendar and create time for a fun, free exploration of possibilities and out-of-the-box thinking with someone else about this task or project. Once you land on a positive way to address the issue, get moving. There are places to see and things to do! 
Enneagram 8 Challenger's Superpower: Direct resolution. Stuck? Examine the roadblocks to execution, with an eye on challenging current processes. How can this task or project be accomplished in the most straightforward, efficient manner? Or should it even be on your list? If not, delegate it or make the case that it is a waste of time and resources so you can remove it from your to-dos.
Enneagram 9 Peacemaker's Superpower: Grounded leadership. Big, fast moves aren't your favorite so if a project looms too large it can be easy for you to ignore it. What if you took time to process this task with someone close to you, with the intention of finding where the smallest shifts can create the greatest forward movement? Practice weaving baby steps into your daily life in a way that creates peace of mind as you complete a bigger project.
What are Superpowers?
Superpowers are your innate talents, motivations, and personality patterns that consistently produce superior results.
What is Kryptonite?
Kryptonite is the tasks, duties and communication styles that disempower us, fueling avoidance, mediocrity and silos on our teams. 
See the superpowers and kryptonite of each Enneagram type »
What is a Play-full Practice Challenge?
A Play-full Practice is a new action, practiced with full commitment, that contributes to your personal and professional development.
This Challenge will help you and your team apply superpowers to drive revenue and results. Challenges build on each other to provide a year-long path to growth!
Activate Your Team's Superpowers
Parillume provides transformational coaching and keynotes to help you shift your lens and leverage your team's unique strengths, personalities and perspectives to drive revenue and improve relationships.
Want to learn more? Connect with us »